Engineering water solutions for safer drinking needs of Fiji's rural communities
This is accomplished through public health awareness, infrastructure solutions and skill training to ensure that their rural water supply needs are sustained.
To imagine a day without water. This is a reality for many Fijians living in rural areas. Rotary Pacific Water for Life Foundation strives to connect these rural communities with safer drinking water and adequate sanitation.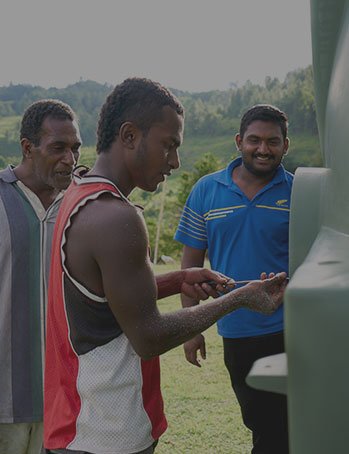 This begins with a technical assessment of the site in consultation with custodians of the water source.
An organised water committee, including women and youth representatives, oversees the management of water resources and wellbeing of the community.
Our experienced team engineer solutions which are reviewed by an expert technical committee.
Able members of the community build their water scheme with guidance from our Projects team.
Cultivating healthy water, sanitation and hygiene practice in the community is a key component of our projects.
Operations and maintenance training promotes dialogue, inclusive participation and active learning about tailored water conservation strategies.
Our niche role in engineering water and sanitation solutions for rural communities has delivered positive impacts to more than 265 villages, settlements and schools in Fiji.
Rotary Pacific Water first assessed the leakage situation, increased storage volume and installed a new pump that now distributes water to a raised storage tank
Jane's Been A Migrant Worker Since She Was Just 12
Engineering water solutions for safer drinking needs of Fiji's rural communities
A Brighter Future — For Fiji's Children
Engineering water solutions for safer drinking needs of Fiji's rural communities